Lesson Plan: How to Analyze a Poem Using Annotations
Mastering The Technique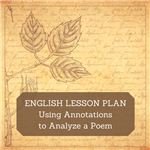 I thought I knew how to analyze a poem, but it wasn't until I learned how to annotate a poem that I truly mastered it. And it wasn't until I taught students how to annotate a poem that I really learned how to do both in conjunction. I owe it all to this lesson plan:
Choose a short poem (15-20 lines). Copy it onto a half-slice of paper and use the other half for writing an analysis.
Write the poem on the board.
Read the poem aloud.
Instruct students to identify the following elements and make notations: rhyme scheme, figurative language, images, symbols, sound devices (alliteration, consonance, assonance, rhythm, onomatopeia, off rhyme).
Instruct students to circle any part of the poem that stands out, confuses them, or is important.
Write questions in the margin; highlight unusual words; mark phrases that indicate the poem's meaning.
Determine the poem's theme and draw arrows to the lines that support the theme.
Make it Fun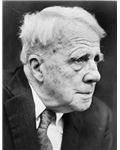 Don't assume students will find this activity boring. Most often, they are pleased they get to think through a poem without the pressure of being "right or wrong." Encourage them to write whatever comes to mind. Instruct students to continue writing their thoughts and do the following:
Hand a white board marker to a student and instruct him or her to identify the rhyme scheme.
Hand a marker to another student and have him or her identify figurative language.
Choose a different student for each of the following: images, symbols, metaphors, similes, sound devices, and meaningful lines.
Ask for volunteers to come up and add anything they wish to the board annotations. They may be shy at first. If so, throw the marker and choose the student it lands closest to.
You may have anywhere from 1-5 students at the board at once while the remainder of the class is writing on their own paper.
Feel free to make a few annotations yourself to keep things rolling. It's important to encourage students. Acknowledge all efforts with appreciation.
Revel in the words of master poets.
You'll discover amazing things as you participate in the process. For example, I discovered that
Robert Frost's "Stopping by Woods on a Snowy Evening" makes sense forwards and backwards.
William Wordsworth's "Daffodils" is about the subconscious connection poets, in nature, make with the Universe/God.
Poetry Analysis
Once the annotations are complete, it's time to write the analysis. Remind students that an analysis consists of facts and commentaries. It is not a summary, a listing of facts, or random, unsubstantiated conjecture. Use the following outline to help students:
Topic sentence stating the title of the poem, the author, and the poem's theme.

Evidence #1: Identify an important line, poetic devices, rhyme scheme.

Analysis/Interpretation #1: Explain how the evidence supports the designated theme.
Analysis/Interpretation #2: Explain how the evidence supports the designated theme.

Evidence #2: Identify an important line, poetic devices, rhyme scheme.

Analysis/Interpretation #1: Explain how the evidence supports the designated theme.
Analysis/Interpretation #2: Explain how the evidence supports the designated theme.

Concluding Sentence