From the Shadow Filled Depths of Mordor Emerges a Love of Reading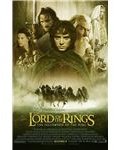 Harry Potter, Edward and Bella of Twilight, The Hunger Games heroine. All of these teenage idols have one thing in common; they are fictional idols. It's been a long time since pre teens and teenagers have had their everyday heroes jump forth from the written page with as much glamour and excitement as these heroes and heroines have. Teachers in the fields of media study, Literature and Social Studies can use this new found interest in reading to their advantage, not by shunning the showing of novels made into films, but instead by embracing these films and using them to your advantage in the classroom.
Lord of the Rings
A jumping off point? Visit the "land of Mordor where the shadows lie", and explore the journey one hobbit takes to make a difference in the world of Middle Earth. For media teachers, this can become an excellent compare and contrast assignment, where you give excerpts from the novel and have students discuss how the words were transformed into film images. For Literature teachers, viewing this film provides you with an excellent opportunity for external reading assignments. Have students watch the first film in the trilogy and then read at least the second, and perhaps even the third novel; analyzing the written character portrayal with the onscreen depictions.
History teachers, fear not, this film works wonders for you as well. What historical journeys can be compared to this fictional one? Which group of characters symbolizes the Allied forces during WW II and which group symbolize the Axis Powers? Tie it in to geography; have students draw maps of where things in Middle Earth are located, using a geographical map from today.
The lessons are all packed into this exciting film and for all teachers, across subject areas, this film provides you with the opportunity to introduce your students to a core group of fictional heroes, ones who have been with us since 1937 and who will remain within our culture forever.
Have your students read a review of the film from the NY Times.
Introduction to Middle Earth Power Point
Introduction to the Lord of the Rings Films