Homeschooling Reviews: Keystone National High School
Keystone National High School, headquartered in Bloomsburg, Pennsylvania, is a distance learning school that serves US-based and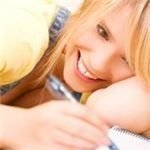 international students in grades 6 through 12. Homeschooled students in this age group can enroll at Keystone in order to complete courses online and work toward earning an official high school diploma. As a correspondence school with approximately 10,000 enrolled students, Keystone allows homeschooling parents to supervise their children's education while receiving support from teachers and staff.
Keystone School Program Overview
Parents can use the following basic overview of the Keystone School online program as a guide in determining whether this option is a
good fit for their homeschooling children.
• Middle school students take all courses online and must complete four core courses and one elective course per grade level. High school students can take either print or online courses. Those who are interested in earning a diploma must complete 21 credits (4 Language Arts, 4 Social Studies, 3 Science, 3 Mathematics, 1 Health, 1 Art/Humanities, 5 electives).
• The Keystone School has accreditation through the Northwest Association of Accredited Schools and has the Homeschool.com Seal of Approval.
• Tuition costs are structured according to an individual course, half-year, and full-year basis. Payment plans and discounts are available.
• Teacher support is provided to students at all grade levels. Parents are able to follow a student's progress through an online Observer Account.
About The Curriculum
Middle school and high school students are able to take a combination of core, elective, and advanced courses through Keystone. Individual subject areas and examples of available courses are detailed below.
• Language Arts: Middle school students take traditional English courses that focus on grammar, writing exercises, and literature. High school students can add courses such as Creative Writing, World Literature, and AP English Language.
• Science/Social Studies: The middle school science courses involve the study of earth, physical, and environmental science, while social studies courses focus on topics such as civics, geography, and economics. High school courses include Biology, Chemistry, Physics, Geography, American History, and AP Psychology.
• Mathematics: Keystone middle school students focus on pre-algebra and pre-geometry concepts, and may also enroll in Algebra 1. High school students can take a range of higher math courses, including all levels of Algebra, Geometry, Trigonometry, and Calculus.
• Health: High school level health courses focus on topics such as general health and wellness, nutrition, exercise, and making positive lifestyle choices.
• Foreign Language: Keystone high school students can learn foreign languages such as Chinese, German, French, Latin, Spanish, and Japanese.
Both middle and high school students may also enroll in advanced placement courses. Middle school electives include Physical Education, Art Appreciation, and Music. High school elective courses include Life Skills, Driver Education, and Career Planning.
Reviews From Homeschooling Parents
On the website HomeSchoolReviews.com, several parents who are familiar with the Keystone School share information about their families' experiences. Some main points of these homeschooling reviews for Keystone are listed as follows.
• The Keystone curriculum is generally regarded as challenging, comprehensive, and well-organized. One parent comments that her son was easily accepted into several universities after completing the Keystone high school program.
• The online instructors who teach Keystone students receive positive comments as well. The teachers and staff members are described as supportive, accessible through phone and email, and willing to address questions or concerns.
• One parent stresses that family members may need to exercise a high degree of involvement in the schooling process, especially if the student is struggling with coursework.
• Another parent bemoans the lack of student-teacher interaction and the curriculum's inability to motivate students.
The Keystone National High School program is a viable option for students who enjoy the experience of learning from home and are interested in obtaining an accredited high school diploma. Parents who are considering the possibility of enrolling their children in Keystone or other online homeschooling programs can contact the schools with questions, read parent reviews, or seek insight from homeschooling friends or acquaintances with experience in this area.
References
1) The Keystone School--http://keystoneschoolonline.com/
2) HomeSchoolReviews.com--http://www.homeschoolreviews.com/reviews/curriculum/reviews.aspx?id=116