Four Great Weekly Homeschool Schedules to Help Stay Organized
Why a Schedule?
Whether using a traditional approach to learning or an unschooling approach, life happens. Grocery shopping, doctor's appointments,

soccer practice and violin lessons all have to be met. Keeping on top of family responsibilities in addition to work and homeschool obligations can seem overwhelming. But, with weekly homeschool schedules, it is not as hard as it sounds. The key is choosing a schedule style that works for your family dynamic.
Schedule 1: Strictly School
Some homeschooling families prefer to keep the concepts of school and home separate. As such, they choose to keep a weekly educational schedule only. The benefit of this option is it puts the responsibility of learning solely on the student as he or she receives a schedule of assignments for the week and is required to take whatever time necessary to complete the work. It is the responsibility of the parent to ensure the work is graded and new assignments prepared and presented in accordance with the schedule. Additionally, the scheduling of appointments, shopping, and household chores falls solely to the parent. This can create friction as the two schedules can sometimes conflict. Moreover, it can create confusion for the child who may be unaware of appointments made, and/or schedule changes or household responsibilities, as they are not included on the schedule.
Click on the image below for a grid large enough to print.
Schedule 2: Daily Duties
This chart offers a guide for all individual responsibilities. The benefit is that it clearly explains for young children what responsibilities exist for them with respect to personal hygiene, personal space, family, and homework. Geared more toward the whole environment, a negative to this schedule is that it does not include specifics with respect to school assignments and goals.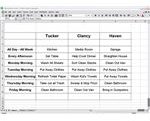 Schedule 3: Color the Month
Though not a weekly planner, this schedule allows your young child the opportunity to be involved through color. He or she can help plan the week or month by adding color to each day as activities listed are successfully completed. Moreover, you can use specific symbols or stickers for chores and activities, allowing further involvement with your child. A benefit of this chart is that it is geared toward the pre-reader or early reader and is used as a learning tool as well as a planner. Get an up-to-date calendar from Free-Printable-Calendar.net.

Schedule 4: Traditional Weekly Planner
This traditional weekly planner allows for course work assignments to be listed in detail by subject for each particular day (diagram demonstrates two days) with a column for additional notes. This 'notes' column can keep track of appointments as well as household chores and other responsibilities to be completed for the target week. This schedule is geared for the older child in that it hones organizational skills.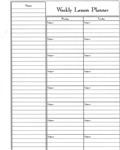 It's Just a Good Idea
Whatever schedule you choose, keeping weekly homeschool schedules for your children helps them to become more organized students, as well as individuals. It also assists you in maintaining the all the responsibilities of parenthood, including those of the homeschooling parent.