Spanish Vocabulary Using Your Favorite Music and Artists
Do you like music?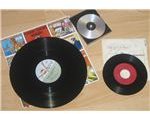 We all listen to music from time to time. Music is all around. And everybody likes a specific type of music or singer, from classical to rock, pop or alternative. So, why don't we learn how to express our preferences about music in Spanish?
This article includes vocabulary and expressions related to music styles, most common verbs, list of instruments and how to express your preferences.
If you are teaching a Spanish class, you can easily use these vocabulary lists to help you design games, conversations, and activities regarding your students' favorite music. The following are expressions that students can use to begin music related conversations.
If your students, or you, are having trouble with Spanish listening, feel free to read this article on how to increase Spanish listening comprehension.
Expresiones (Expressions)
¿Quén es tu cantante favorito? or ¿Qué cantante te gusta más? - Who's your favorite singer?
Mi cantante favorito es... - My favorite singer is...
Mi grupo favorito es... - My favorite group is...
¿Has escuchado la nueva canción de...? - Have you listened to ….......'s new release?
Me gusta mucho esta canción. - I like this song a lot.
¿Vas a ir al concierto? - Are you going to the concert?
Me gusta esta emisora de radio porque emiten música de los años ochenta. - I like this radio station because the broadcast music from the 80's.
Me gusta la música clásica, y en concreto la música de Morzart. - I like classical music, specifically Mozart's music.
El hip-hop es muy popular ahora pero a mí no me gusta. - Hip-hop is very popular now but I don't like it.
Prefiero la música pop al reggaeton. - I prefer pop music to reggaeton.
He aprendido a bailar el vals y la salsa. - I have learned to dance the waltz and salsa.
Ayer fui a un concierto y me encantó – Yesterday I went to a concert and I enjoyed it.
Vocabulario General -sustantivos- (General Vocabulary -substantives-)
el acorde – the chord
el altavoz – the loudspeaker
el auditorio – the auditorium
el / la artista – the artist
la banda – the band
la banda sonora – film music
el / la barítono – the baritone
la canción – the song
el / la cantante – the singer
el canto – the singing
el cd / el disco compacto– the cd
la cinta – the tape
el compositor – the composer
el concierto – the concert
el coro – the chorus
el cuarteto – the quarter
el director de orquesta – the conductor
el disco – the record
la escala – the scale
el grupo – the group
el instrumento – the instrument
la letra – the lyrics
la lista de éxitos – the charts
la melodía – the melody
la música – the music
la música de baile – dance music
la música de cámara – chamber music
la música de fondo – the background music
la música electrónica – electronic music
la música sinfónica – symphonic music
el / la músico – the musician
la orquesta – the orchestra
la ovación – the ovation
la partitura – the score (musical)
el pentagram – the staff
el recital – the recital
el ritmo – the rhythm
el sencillo – the single
la sinfonía – the symphony
el solista – the soloist
el sonido – the sound
el / la soprano – the soprano
el / la tenor – the tenor
el tocadiscos – the record player
el vídeo musical – the music video
el vocalista – the vocalist
Vocabulario General -verbos- (General Vocabulary -verbs-)
aplaudir – to clap
bailar – to dance
cantar – to sing
componer – to compose
escuchar – to listen
sonar – to sound
tocar (un instrumento) – to play an instrument
tocar de oído – to play by ear
Estilos musicales (Musical styles)
el blues - blues
el gospel - gospel
el heavy metal – heavy metal
el hip-hop – hip hop
el jazz – jazz
la música clásica – classical music
la música disco – disco music
la música folklórica – folk music
la música pop – pop music
la ópera – the opera
el rap – rap
el reggae – the reggae
el reggaeton – the reggaeton
el rock – rock
la salsa - salsa
el vals – the waltz
la zarzuela – Spanish operetta
Instrumentos (Instruments)
el amplificador - the amplifier
el arpa – the harp
el bajo – the bass guitar
la batería - the drums
el bombo - the bass drum
las castañuelas – the castanets
el chelo – the cello
el clarinet - the clarinet
el fagot – the bassoon
la flauta - the flute
la guitarra – the guitar
la guitarra acústica – the acoustic guitar
la guitarra eléctrica – the electric guitar
los instrumentos de cuerda – the brass instruments
las maracas – the maracas
el mezclador de sonido – the sound mixer
el oboe – the oboe
el órgano – the organ
la pandereta – the tambourine
la percusión – the percussion
el piano – the piano
los platillos - the cymbals
la púa - the plectrum
el saxofón - the saxophone
el sintetizador – the synthesizer
el tambor – the drum
el trombón – the trombone
la trompeta - the trumpet
la tuba - the tuba
el violín - the violin
el violonchelo - the cello