An Grade School Lesson Plan Based on The Tale of Mr. Jeremy Fisher
Lesson Overview and Objectives
Children remember best and longest what they learn by doing. Try this creative lesson plan which includes several hands-on activities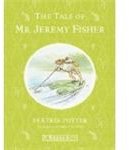 using sand play to support the teaching of The Tale of Mr. Jeremy Fisher by Beatrix Potter. These art activities are age-appropriate for elementary students and are easy to teach.
The educational objectives for these activities are:
Developing creative and artistic ability
Teaching students to draw upon remembered experiences to complete current tasks
Exercising and developing fine motor skills
Introducing measuring skills
Use these art activities as stand-alone projects or to support other lesson plans about frogs or animal themes.
Art Lesson Plan Supplies
You'll need:
Sand
Paper plates
Two or three packages of alphabet cookies
Whiteboard
Dry erase markers
Glue
Several one-half cup measuring cups
The sand art pictures can also be made on cardstock or poster board and displayed around the classroom.
Teaching the Lesson Plan
Give each child a paper plate, and let them use a measuring cup to scoop out one-half cup of sand onto the plate. Let them have about five minutes creative play time, and encourage them to draw one of the characters from the story into the sand.
To start the lesson, ask them what kind of animal Jeremy Fisher was. After they answer, write the word "frog" on the whiteboard, and say it out loud. Ask the children to say frog, and then instruct them to use a finger to trace the word into the sand.
Continue the lesson in this manner, asking other discussion questions and writing the words on the board so the students can copy them in their sand. Keep the lesson short – about four to six words – and let the kids have fun. This part of the lesson takes about ten to fifteen minutes.
Have the students put their sand back into the container, and use the glue to write the word "frog" on each plate. Encourage the kids to take a small handful of sand and dribble it over the glue letters. Set the plates aside to dry and have everyone wash their hands.
Read about Jeremy Fisher
To finish the lesson, read The Tale of Mr. Jeremy Fisher to the class again. After the story, give each child a small portion of alphabet cookies, and help them use the cookies to form words. It would be nice to make words from the story, but there may not be enough of the right letters in a box of cookies, so be creative. Let them eat their lesson manipulatives as part of the classroom cleanup.
Children explore tactile and multi-sensory activities and reinforce prior lessons while increasing fine motor skills in this interactive lesson plan. Measuring objects is introduced, and creative expression is encouraged.
Extend the lesson by reading books or creating other art projects based on a frog theme. Here a suggested reading lists of children's books about frogs:
Oscar and the Frog: a Book about Growing, Geoff Waring, [Walker Books, Ltd., 2008]
The Speed Trail: a Feather, Fur, and Frog's Hair Adventure, D. C. Dubois, [Create Space, 2009]
Four Freckled Frogs: a Book about Consonants, Ruth Thompson, [Chrysalis Education, 2004]