Have Fun with Clifford the Big Red Dog Learning about Good Deeds
Lesson Overview and Objectives
This elementary lesson plan is based on the book Clifford's Good Deeds by Norman Bridwell. Clifford the Big Red Dog learning about helping others is a fun story that holds the kids' attention, and they learn while being entertained. As a bonus, they also increase their vocabulary and literacy skills. This lesson is easily supplemented with other lessons based on Clifford the dog books.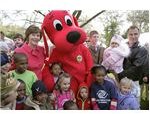 This lesson takes about 45 minutes, and is designed for children who read, write, and understand simple sentences. Students should be able to follow written instructions with minimal adult supervision.
The educational objectives for this lesson are:
Completing class work promptly
Using remembered information to complete assignments
Reinforcing and encouraging emergent readers
Clifford the Big Red Dog Learning
Let the student see the cover of the book and discuss what they see. Ask them to predict the story based on the cover illustration, and write down their predictions. At the end of the story, test their predictions for accuracy.
Use these discussion questions during the reading to spark student's critical thinking skills and encourage conversation:
Who is Emily Elizabeth?
Who is Tim?
Why does Clifford decide to do good deeds?
How does white paint get on the house?
What happens when Clifford tries to get the kitty out of the tree?
How does the man with the flat tire get his car repaired?
Who helped the paperboy deliver his papers?
Is being big an advantage or disadvantage for Clifford?
How do the kids escape from the burning house?
How does the mayor reward Emily Elizabeth, Tim, and Clifford?
This activity sheet can be copied and pasted into any word processing program, and then printed, or you can download a free copy from the media gallery by clicking on Clifford the Dog Activity Sheet.
Read the sentences and fill in the blanks. Use the words from the word bank.
The dry _______ made Clifford _______.
When Clifford _______ his tail, _______ painted splattered.
Clifford caught the _______ in his _______.
Clifford _______ the tire too ________.
The newspaper broke a ________.
Clifford rescued _______ kids from a _______ house.
Clifford put the fire out with _______ .
The mayor gave Clifford a _______ for his good deeds.
Clifford got the _______ medal.
Word Bank: leaves, wagged, kitty, blew, window, two, water, medal, biggest, sneeze, white, paw, hard, burning
Teacher Answer Key: leaves, sneeze, wagged, white, kitty, paw, blew, hard, window, two, burning, water, medal, biggest
Summary and Recommended Reading List
This lesson plan about Clifford the Big Red Dog learning about good deeds is a good way to introduce the concept of serving others. Kids have a fun time listening to the story and doing related activities. For an entire unit based on Clifford the Big Red Dogs books, please read "Clifford the Big Red Dog: Learning About Clifford's First Autumn."
Here is a reading list for other Clifford books:
Clifford Four Favorite Stories, Norman Bridwell, [Scholastic Inc., 1972], includes: Clifford the Small Red Puppy, Clifford the Big Red Dog, Clifford's Birthday Part, and Clifford Goes to Hollywood
Clifford's ABC, Norman Bridwell, [Scholastic Inc., 1983]
Clifford's Word Book, Norman Bridwell, [Scholastic Inc., 1990]
Clifford Cookie Crazy!, adapted by Gail Herman from the television script "Clifford's Cookie Craving" by Baz Hawkins, [Scholastic, Inc., 2003]
Count on Clifford, Norman Bridwell, [Scholastic, Inc., 1985]
Image Credits
Image, Wikimedia Commons/Public Domain