What Makes the Grand Canyon So Grand? A WebQuest for Fourth Grade
Teachers
Place students in groups to use websites and books to complete a task.
Objective
Describe how regions and places have distinct characteristics (e.g., Grand Canyon, Colorado River, Casa Grande Ruin, Walnut Canyon, Montezuma Castle, Canyon de Chelly, Rocky Mountains, Rio Grande River, Yucatan Peninsula). SS04-S04-C02-04
Introduction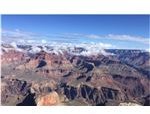 Students, you are about to embark on an adventure to one of the great wonders of the world. Each group will learn about one feature of the famous Grand Canyon in Arizona. Then we will all come together to share what we have learned.
Evaluation
Now that you have completed and presented your task to the class, it is time for you to evaluate your work. Think honestly about the job that you did on this lesson. On a scale of 1 to 5 (5 being the best) respond to each of these statements with a number.
My work was neatly done and easy to read. ______
My spelling was correct. __________
I cooperated with the members in my group and did my fair share. _______
I learned many things about the Grand Canyon. ___________