Color Power: A Lesson Plan for Third Grade Art
Learning about the color wheel need not be a mere enumeration of primary, secondary, and tertiary colors. It does not have to be taught in a single session either. Instead, bear in mind that your ultimate goal must be to empower the kids with the beauty and purpose of colors so that they may become skilled at creating colorful variations in their artworks. When making your lesson plans for third grade art, it is important for you to adopt a spiral approach too just like in other disciplines or subjects. Begin with the essentials that will be useful in the future artistic endeavors of the students, such as a lesson about the color wheel.
Below is a grade 3 art lesson plan good for two sessions or more. Hope you can use it in your classes!
Objectives
At the end of the sessions, your students must be able to:
Identify the primary, secondary, and tertiary colors.
Paint a color wheel correctly by mixing primary colors.
Appreciate the beauty and use of colors by applying color wheel combinations in painting pictures.
Materials
You will need the following:
Giant color wheel sample
Blank color wheel templates
Pictures of things that are naturally or commonly colored with the primary and secondary colors
Pictures of things that can be of any color
Pictures of sample paintings that made use of color wheel combinations
Formulas for secondary and tertiary colors
Masking tape
Poster paint (red, blue, yellow)
Mixing palettes
Paintbrushes
Water
Transparent plastic glasses or cups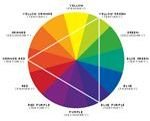 Motivation
Post a giant color wheel sample on the board. Make sure it has all the primary, secondary, and tertiary colors complete with labels. Have the students read all the colors aloud. Then show pictures of things that are naturally or commonly colored with red, blue, yellow, green, orange, and violet (e.g. apple for red, water for blue, sun for yellow, grass for green, orange fruit for orange, and eggplant for violet). Ask students to stick the pictures beside their matching colors on the color wheel.
Afterwards, hand three uncolored pictures to each student. These pictures must be those that can be of any color (e.g. car, shirt, bracelet). Ask them to use their coloring materials to color the pictures in any shade that can be found in the color wheel. Then let them stick these pictures beside their matching colors on the color wheel. In this way, the students can become familiar with the twelve colors in the color wheel.
Discussion
Begin the discussion by asking the students what they think is the meaning of a color wheel. Write down significant answers on the board. Explain its actual definition and give important facts about it.
A color wheel is a circular or round chart of colors. It has 12 equal parts.
The basic or primary colors are red, blue, and yellow. They are placed in the wheel so that a triangle is formed.
If you mix these primary colors, you can come up with the other colors.
As you enlighten the students about the color wheel, tape a blank template on a wall and demonstrate the painting of the primary colors. Point out the three parts in between two colors. Also emphasize the triangular formation. Then demonstrate the mixing of the primary colors. Have your third graders guess the result of each blend. As you get each outcome, do not forget to paint on the blank color wheel to show the kids how it is done. When you are done with the secondary colors, point out their positions. Then you can proceed to the mixing of the secondary colors to come up with the tertiary colors. Keep in mind that an exhibition of the mixtures is very important in developing the kids' understanding of the primary, secondary, and tertiary colors and why they are called as such.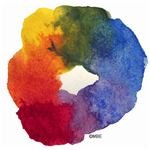 Evaluation
Now it is time for the students to complete their own color wheels! By this time, they are probably bubbling with excitement already. Distribute the materials and have them work individually in mixing their paints and painting their blank color wheels. Remind them to label each color with a black marker once their work has dried. As they work, go around to observe and guide the students. In evaluating the art works, it is recommended that you use rubrics for the process and for the actual work.
For a greater challenge, you may opt to remove the samples you have put up on the board or on the walls. In this way, you will be able to see which ones can actually make a color wheel without any guidance.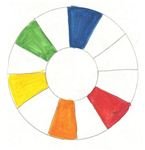 Reinforcement
For students who are a bit challenged, perhaps you can provide them with smaller samples that they can put on their work tables to serve as a guide. You may want to provide the following formulas for making the secondary colors:
red + yellow = orange
blue + yellow = green
blue + red = violet
You may also give copies of formulas for the tertiary colors. Here are some examples:
red + orange = red-orange
yellow + green = yellow-green
blue + violet = blue-violet
Enrichment
On the other hand, it would be good to provide an enrichment activity as well for those who are advanced. Some of the students who finish their color wheels quickly may move on to this activity too.
Start by showing the kids samples of paintings that make use of color wheel combinations. Then have them paint some pictures with the color wheel in the center to indicate what colors they can use.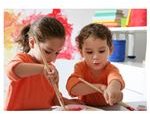 This is just one of the many lesson plans for third grade art that you can use. If you will be teaching about the color wheel, you can utilize this or modify it to suit your own needs and those of your students. Remember… art is about creativity! It is not merely a work of your hands, but a fabrication of your heart. Inspire your students in this way, and you will be able to cultivate great young artists!