Little House: Interactive Lesson for a Third Grade Pioneer Unit
A Journey to the Big Woods
Today's children are accustomed to interactive games and using the Internet. Engaging them with a webquest keeps them interested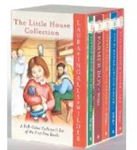 and they will actually do a better job of assimilating the information they learn about pioneers. Send them out to the Big Woods in the Midwest to start on their journey.
Social Studies Objectives:
1. Practice map skills
2. Compare daily life in the past and present
3. Research landforms, vegetation and wild life from the Kansas prairie.
4. Learn about two types of pioneer homes
Cross-Curricular Objectives
1. Use art skills and writing skills to create a project that informs the audience
2. Do a presentation in front of an audience of peers using appropriate voice and visual aids
The Task
You will use your resources and find information on the Internet to prepare a presentation about your assigned topic. Here are the topic choices:
1. Through what states did Laura travel? Draw a map showing the states. Draw a tiny house on all the places where she lived.
2. Name the birthplace of Laura Ingalls Wilder. List three things about the town. List three events in the town celebration of Laura Ingalls Wilder Days. Then create a brochure on a tri-fold piece of construction paper to advertise the town.
3. What did the pioneers take with them in the covered wagon? Pack a suitcase with pictures/actual items to represent some of the things the pioneers took with them.
4. What toys or games did the children have? Make an example of one of the toys or games.
5. What is the prairie like in Kansas? Draw pictures of the wildlife, landforms and vegetation.
6. What kinds of homes were built by the prairie pioneers? Choose one and draw or build an example. Write a description of the house and how it was built.
7. What foods did the families eat and how were they prepared? Prepare a sample of food to go with your written preparation.
The Process
Divide students into pairs or small groups. This webquest will also work for students who work better alone. Assign topics from the task section and allow time to work on the computers and also time for preparation of the presentation.
Evaluation
1. To evaluate, meet with your group and the teacher to discuss the tasks that each member performed and how everyone shared the responsibilities. Ask group members to each give their group a grade.
2. Teacher can assess the grade based on the preparation, presentation and effort.
Wrap-Up
Students will be more engaged and learn more when they have a specific task and are able to use the Internet as a tool in completing the task. Use this Social Studies Webquest for third grade or other elementary school students to combine the study of pioneer life and the Little House books by Laura Ingalls Wilder.