Writing and Producing a Newspaper for the WWII Time Period
Class Project
Goal: Students will create a World War II-era newspaper as a class project. Each person will write a news story or create a cartoon on a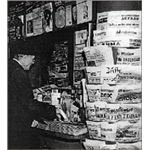 political issue of the times. For extra credit, students can create advertisements for items that were popular during that time period.
Materials Needed: Computers to research newspapers of the time, to type a news story and to lay out the newspaper in Microsoft Word by using the newsletter templates.
Steps for Creating a Class Newspaper
Step 1 -- Share examples of newspapers from the WWII time period. Students can see how newspapers changed from the beginning of the war till its end at the York town Square site. This can also give them ideas for political cartoons, advertisements, and news stories.
Step 2 -- Teach basic news writing. The link provided has tips for teaching students to write a basic news story. Make sure students learn how to write strong leads.
Choose Topic for News Story
Step 3 -- Choose a topic from the time period and research it using the Internet, history books and/or library. A history teacher can suggest a list of individual topics or students can research one of the following broad topics to find a story topic:
battles
pacts & conferences
famous leaders
home front
weapons and bombs
theaters of war
Step 4 -- Select a small group of students to do the layout of the newspaper. It is best to limit it to three to four students. These editors will take the final copies of the stories that have been typed and place them in the newsletter.
Write News Story
Step 5 -- Students need to write a draft of their story. The students should describe the event, person or topic well in a news story format. It is best if students peer edit as well. They should check for use of the news story format, grammar and content.
Step 6 -- Students need to type their final copy and single space. This needs to be saved on a server where the editors have access to the files, or students need to store their stories on a jump drive or disk.
Design Layout for Newspaper
Step 7 -- The editors need to take all of the files and layout the newspaper. Use the Microsoft Word templates to make the newspaper regular copy paper size so that it can be copied easily and stapled. It is also great if clip art can be added to the newspapers. Take note of the example newspapers that students researched earlier.
Step 8 -- After the teacher has reviewed the final copy of the newspaper, give every student a copy of the class project.
Tip: If you are using all parts of the WWII unit, these newspapers can be "sold" during the USO.
This is a fun project that can teach the basics of news writing and incorporates a WWII research project. In addition, the newspaper will be a keepsake for many students. Parents and grandparents will enjoy viewing the papers as well.
Resources for newswriting:
Newswriting basics, from McGraw-Hill Education.
Reporting basics, from Reuters Handbook of Journalism