Joyeux Noel! Making Christmas Snacks With Kids
The Tradition of the Yule Log
Before beginning this easy Christmas snack for kids to make in the classroom, you may wish to provide a brief history of the Yule Log: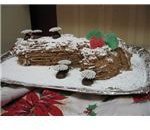 Once a pagan ritual, the Yule Log Ceremony was celebrated during the winter solstice - which occurs around the same time as the Christmas holiday. A log was burned on the longest night of the year to honor the gods and keep away evil spirits as the sun rose in victory over the darkness and the days would soon grow longer. The cinders were thought to bring good luck in the coming year.
Soon, the burning of the Yule Log became an integral part of the Christmas festivities around Europe and England. The log was never purchased. Instead, it was taken from the owner's own land or a neighboring property. It was burned on Christmas Eve, with a little piece saved to be used to start the next year's fire. Often, holly was placed under the log to help it burn more quickly. Christmas guests would toss a little holly in themselves, to bring good luck and keep their own houses safe in the coming year.
Then, in the late 18th to early 19th century, a decorated cake symbolic of the Yule Log became a traditional French dessert. Typically, it is a rectangular yellow cake spread with frosting and rolled up into a cylinder, thus representing the log itself. Called "Bûche de Noël" or "Yule Log" in other areas, it has become a traditional Christmas dessert.
Making Edible Yule Logs With Your Students
Materials:
Cans of chocolate frosting
plastic knives for spreading
mint leaves and red hots (to simulate holly)
small round plates
powdered sugar (to simulate snow)
Hostess Twinkies (one whole and one half for each student)
Directions for Making This Christmas Snack for Kids:
Each student uses the chocolate frosting to cover their Twinkies entirely. They may then use the edges of the plastic knife to drag across the frosting in an attempt to make it look like the rough bark of a log. The half Twinkie can be stuck to the top or side of the whole Twinkie to make the final cake look more like a large branch or log of a tree. Students may wish to sprinkle a small amount of powdered sugar on the "log" or on the plate surrounding the log so that it looks as if a dusting of snow has accumulated. For the final touch, children may add 3 small red hots and two mint leaves to the log to represent the traditional holly.
Beginning a Tradition
This easy Christmas snack for kids makes a terrific holiday snack center in your classroom. Use the idea for classroom parties, or for a lesson on following directions.
Parents will also enjoy this Christmas snack for kids to make. Consider sending the direction home for families to enjoy together year after year. This edible holiday tradition will surely become a family favorite!