Springtime Bulletin Board Fun for Preschool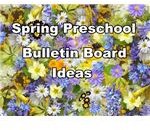 Use these preschool bulletin boards for spring to get your classroom ready for spring. You can use one or all three ideas. Each has an educational component such as learning about shapes, learning about rain and learning about the season.
May Flowers
Materials
Butcher paper or fabric
Construction paper in various colors
Various die cut shapes
Glue or glue sticks
Paper cutter or scissors
Procedure
Before you complete this springtime bulletin board, you will need to create stems for the flowers using green construction paper. Each student will need one stem. You can do this very easily by cutting green construction paper into ½-inch strips. You will also need to die cut various shapes such as circles, squares or rhombuses that students can use to create their flowers. In addition, you need to cover the bulletin board with butcher paper or fabric.
This activity would be great to make as you are teaching shapes or to review the shapes you have already taught. Pass out a "stem" to each student and then pass out the die cut shapes and the glue. You can just give an assortment of shapes to each table. Next, have students assemble their flowers.
When students have finished their flowers, place them on the bulletin board. A wonderful title would be, "April Showers Bring May Flowers." You can even have your students cut out raindrops to put on the top portion of the bulletin board.
Rainy Day Fun
Materials
Blue butcher paper or fabric
Student photographs
Rain drop cut out—one per student (optional)
Procedure
Before you make this bulletin board, have students bring in photographs of themselves doing fun things in the rain. You can also take pictures of students in the rain. Cover the bulletin board with the butcher paper or fabric.
Arrange the photos on the bulletin board. An excellent title would be, "Rainy Day Fun." Another great option would be to give each student a raindrop cut out. Then, have them draw a picture or try to write what they are doing in their photographs. You can teach about why rain is important and why we need it.
Springtime Fun
Materials
Butcher paper or fabric
Finger paint paper or manila paper
Finger paint or watercolors
Paintbrushes (optional)
Procedure
Talk about what happens during spring. You can even read a book about springtime, such as It's Spring by Linda Glaser. Then, discuss activities you do during spring. Have students talk about their favorite things to do.
Cover the bulletin board with fabric or butcher paper. Give each student a piece of finger paint paper or manila paper and some paint. It is up to you if you want to use finger paint or watercolors. Then, have students paint a picture of their favorite thing to do in the springtime. When they are finished, let them share their paintings with the class. Then, put them on the bulletin board. A wonderful title for this particular preschool bulletin board for spring would be, "Super Springtime Fun."