Three Pre-K Classroom Door Decorations and Ideas--Plus Lots More!
Downloadable Door Decoration Templates
Decorating your classroom door gives outsiders a peek into what your classroom is like. A creative and well decorated door will make any passer-by want to stop and see what your class has been up to. By personalizing your classroom door, you will also help preschoolers remember which classroom is theirs--and give them a sense of pride. So add your personal style and create a magnificent door using the following ideas.
The templates for the following three activities can be printed out right here on Bright Hub Education by clicking on this link to Door Decoration Templates.
What a Great Bunch
Materials: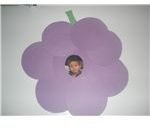 Picture of each student's face
Circle template
Purple construction paper
Scissors
Glue
Green construction paper
This is a simple, easy craft that the students can help you with. First print out the circle on purple paper or have students trace it on purple construction paper, then cut out. Next glue each student's picture onto the middle of the circle. Arrange the purple circles like a bunch of grapes, overlapping them. Add a green stem to the top of the bunch and write, "What a Great Bunch" at the top of the door. This activity would go perfectly with a food or healthy eating theme. Also, students would be using their fine motor skills when tracing and cutting the purple grapes.
Greatest Hits
Materials:
To make this door decoration you will first have to print out CDs and have students decorate them as they like. Student's can decorate the CDs according to the time of year. For a Pre-K Christmas art project, have them decorate the CD green and red. If it is spring time they can decorate it with flowers. Then, glue a picture of each student's face onto the middle circle of the CD and write his or her name around the CD. Write, "(Teacher's Name)'s Greatest Hits" at the top of the door.
Pre-K Fits Me to a Tee
Materials:
For this activity students will be using their fine motor skills to create a T-shirt. First print out the T-shirt template and have students decorate the T-shirt as they like, and help them to cut it out with safety scissors. Then arrange the T-shirts on the door, and add each students face above the neck of the T-shirt. Write at the top of the door, "Pre-K Fits me to a Tee". This activity allows students to be creative and they will enjoy seeing their creations along with their pictures on the front door.
More Ideas:
Here is a list of several ideas that you can use to decorate your classroom door. All of these ideas can be created by you or with help from your students.
•Swing into Mrs.________ Class - Put student's names or pictures on monkeys.
•Leap into Learning – Put students names or pictures onto frogs.
•Hop into Mrs.__________Class - Put student's names or pictures onto bunnies.
•Step into Class – Put student's names onto shoes or sneakers.
•A Whole New Crop – Put student's names or pictures onto apples or corn.
•What a Great Bunch – Put each student's name on a banana.
•We are Beary Happy to Have You – Put student's name or picture on a bear or berries.
•We're Rockin' in Pre-K – Put student's names or pictures of radios.
•Pre-K is Stepping into the World - Put student's names or pictures on sneakers around a globe.
These Pre-K classroom door decorating ideas allow you to be creative and add your own unique style to your classroom. They give your visitors an idea of what they can expect if they come inside. So have fun creating a fabulous front door and, remember, by adding your own style you will be sure to give your visitors something to talk about.
References
Source: Author's Own Experience
Image Credit: Janelle Cox