A Happy Half Dozen Preschool Printable Books About Birds
Downloadable From Bright Hub Education
A printable bird book titled How Many Birds Do You See? can be found by clicking on the link. This book is six pages long and helps preschoolers learn to how to count and recognize different kinds of birds. This book would go great with a preschool math lesson on birds. Students are to fill in the blank on each page with the number of how many birds that they see. This book will help preschoolers learn to count, write numbers and learn about different kinds of birds.
Additional Resources
Here are a few websites that offer bird books for preschool. Printable options are available for each, as well as other activities to enhance your lessons.
Dltk-teach.com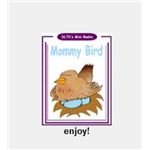 This website offers a free mini-book about birds titled Mommy Bird. This book is eight pages long and includes simple words and picture clues so preschoolers can read it by themselves. You can download and print the mini-book in color or black and white. This website also includes directions on how to print out and fold the book. This preschool bird book will go great with a spring reading lesson on birds.
Nick Jr.com
This website has a bird-watching activity book so that preschoolers can print out, color and learn about different birds. This bird watching activity book can be used in correlation with the Nick Jr. bird special that airs periodically on television.
Two From Learningpage.com

This website offers a free membership before you can download and print any mini-books. This printable bird book is titled My Mini Book of Strange Beaks. It is seventeen pages long and in color. This book has to be read to the students because its language is too hard for them to read. It will teach the students about fifteen different kinds of birds.
This website offers another free printable book about birds titled, My Mini Book of Bird Children. This book is fifteen pages long and in color. Students can follow along as you read to them about the different kinds of birds. Both of these printable bird books will enhance any reading lesson about birds.
Morecoloringpages.com
This website offers even more printable bird pages that you can print in either black and white or color. Each page can be printed separately and has one or two sentences that can be read to the students detailing about each bird. You can create your own book with this website because it allows you to print each page separately and in any order you like.
Click on the link for more information.
Your preschoolers will love learning about birds with these free printable book options. Try these other preschool activities about birds too; they will be sure to complement any lesson with a bird theme.
References
Dltk-teach.com http://www.dltk-teach.com/minibooks/spring/index.htm
Nickjr.com http://www.nickjr.com/printables/bird-watching-guidebook.jhtml?path=/printables/all-shows/coloring-pages/5-6-years/index.jhtml
Learningpage.com http://www.learningpage.com/free_pages/galleries/beaks1/beakspg12.html
Morecoloringpages.com http://www.morecoloringpages.com/birds_coloring_pages.html
Image Credit:
Bird Wheel, Janelle Cox
Mommy Bird, Dltk-teach.com http://www.dltk-teach.com/minibooks/spring/index.htm
Strange Beaks, Learningpage.com http://www.learningpage.com/pages/mini/print.html